Jul
15
Back in the Saddle Again
Eli and I saw the train running during the week, so we were both pretty excited to get to Blackberry Farm on Saturday and ride it. It was GLORIOUS! Well, it was the same, really, but we'd been away for a while, so the anticipation heightened the experience.
I believe we took advantage of every aspect of the park except for the carousel. He's not as keen on it as he was last year; he prefers to ride the benches over the horses when he bothers to ride at all.
A more succinct rundown, with pictures: https://plus.google.com/103646181369615370919/posts/cSAo36ushRa
(Let me know if that link doesn't work.)
There was some new excitement in the train depot building, too. Where only the north-most part had been open in the past, now the middle section was open (including the conductor's desk, a ticket window, train table, and other toys) and the south section was also open with a model train in a circular diorama. The only thing more exciting than a model train in a diorama is a model train that you can control, and these are controlled by two buttons. Doesn't get much better than that when you're about to turn three.
Jun
20
Just My Madgernation
Jennie was able to get a little more information on the Madger's friend Sturpey. According to Eli, Sturpey has a car and a house (which is broken, but Sturpey fixes it). He has no dog but does have a cat named Pom. He takes his friends to the Rainforest Cafe because he's not afraid of the gorillas, but he prefers to sit by the other people (instead of the gorillas).
More to come as we uncover it…
Oh, and some bike riding/entomology:
filed under: Uncategorized | comments (0) | read more...
Jun
17
Surveillance State
I'm not talking about Obama or Prism – I'm talking about Soundcloud. Eli says some hilarious stuff, but it's tough to remember all of it or the way he said it. I've been using an app on my smartphone called Soundcloud to capture some of this gold.
When I try to take a video, he sees the phone aiming at him and that becomes the focus. With the Soundcloud app (widget, actually – it's a giant orange button labelled "Rec"), I can hold the phone inconspicuously and record unnoticed.
We can match photos from the same relative time at a later date. It's not perfect, especially since you can't really capture the entire context along with the audio (or video for that matter), but I suspect I'll enjoy listening to this stuff years from now. And if they get lost in the internet cloud somewhere, I can always ask the government for a transcript.
filed under: Eli | comments (0) | read more...
Jun
13
Eli and the Madger
It's hard to fathom that we're coming up on Eli's third birthday already. It's not as hard to imagine when you talk to the boy. He's still working on language, but he's jumped from putting together sentences to making up stories and jokes. He used to reference "the Madger" but wouldn't elaborate on what or who that is. More recently, he talks about his friend Sturpey, who apparently can drive. He frequently drives Eli's friends to the Pole Trees (Chipotle) for "quesadisas". Sometimes they pick one up for Mama, too.
In real life, it's hard to glean who his best friend might be, but at school he likes Frankie, Piper, and Will the most (this week). I think the fact that they change classes at six month intervals based on their birthdays makes it a little difficult to be consistent with besties.
filed under: Uncategorized | comments (0) | read more...
Dec
5
Christmas Card!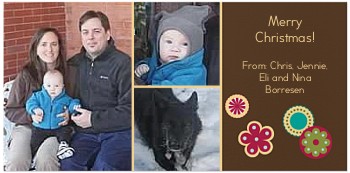 Christmas Cookies Christmas
filed under: Uncategorized | comments (0) | read more...
Aug
5
The Barber's Closet
I'm posting this here for posterity. I downloaded it a while back and keep moving the file from computer to computer. I suppose this isn't exactly permanent, either, but it's better than nothing.
The menu only tells part of the story. My first visit to this place was perfectly executed, with my friends not telling me where we were going, taking me into what looked like a barber shop, pulling on the wall, and then leading me into a candle-lit room that was absolutely timeless.
There were sofas and drapes blocking off areas where people could have interesting discussions over a giant fishbowl of a drink. Sure, there were pages of the menu that were limited to a maximum of two per customer, but the entirety of the experience was the magic. And it was magic.
http://borresens.com/wp-content/uploads/2009/08/BarbersClosetFinal7.pdf
filed under: Uncategorized | comments (1) | read more...
May
5
Home Improvement
So, Jennie went back to school and I went through a bit of an employment renaissance over the past few years which put us in a bit of a financial bind. Not insurmountable, but definitely tough. With the economy scraping bottom in the past year or more, it's been especially nerve-wracking.
Luckily, school went well and Jennie is now fully employed (and making more than me!) so we're on the road to recovery. We have a long list of projects we want to do in the house as soon as possible. It's crazy how much joy can be derived from just the idea that we will be able to do this stuff. We're not looking to do a complete remodel or anything, just upgrading stuff that's needed it since we moved in a few years ago.
Here's a list:
Electrical stuff: new outlets downstairs, new outlet in kitchen, fix switches upstairs
New microwave mounted above stove
Mulch for all around the house and all of the trees, new plants for the bare spots, new garden box.
New kitchen counters, sink, faucet
New floors on kitchen/dining room half of downstairs
New bathroom vanity tops, faucets, floors, shelves
Fix drywall and paint again (everything – stronger colors this time)
I can do all but the first item, and the electrician (a friend) is coming out tomorrow. The rest would be a little expensive to do all at once, but spread out we have the ability to continue to pay down other debts while we make improvements.
filed under: home | comments (0) | read more...
Mar
16
Biking Couple
We finally got a chance to get off the trainers and onto the pavement this weekend. We did ten miles on Saturday just to see how that would feel, and it was no problem. The bike path from North Aurora to Geneva is pretty scenic with the river on one side and lots of houses and woods on the other.
Sunday, we went for twenty miles to see how that would work. As an experiment, we rode from home to J's hospital just to see how long it would take. Turns out it's possible, but there's really no easy way to do it. Splitting the ride into a to/from situation with 12 hours of nursing in between would be more realistic, but the ride home would be exhausting after work. Probably not realistic.
Anyhow, I think I'll be investing in some compression pants and a waterproof jacket if we continue to ride this summer. Other couples golf – I'd be into visiting other cities and riding bikes. That could be our thing.
filed under: Uncategorized | comments (0) | read more...
Mar
11
A Lofty Goal
Lofty, but attainable, which is the key. We're planning to do a bike trek in June that spans 200+ miles over five days. It's in Western Illinois, so not a lot of hills or mountains, but lots of traveling. I'm pretty sure my legs are up for it but my ass is a little concerned. Either way, we'll ride and rest on alternating days, with a pit crew hauling our camping gear from one station to the next. It sounds like an adventure we'll either hate by the end or we'll end up doing it annually. I'm looking forward to it.
filed under: Uncategorized | comments (0) | read more...
Nov
24
Rip Schneider
Originally posted HERE on November 18th, 2008.
Well, I got the call this morning. We've been through a few holidays where we thought it would be Rip's last, but he's always soldiered through. Not so this time. My dad told me that Rip passed after midnight. He slept through most of yesterday, but woke up once and told his girls "the party's been canceled." Then went back to sleep. They figured he was dreaming, but he may have known what was happening. They gave him some morphine to make sure he wasn't in any pain, and he just never woke up.
Things had been rough for him for a while. Years of smoking had all but crippled his lungs, and his son died a few years ago from lung cancer. It was doubly sad since they had been estranged for many years. Rip's wife (my grandma, Dorothy) passed shortly after that, just after Rip had suffered a mild stroke but had mostly recovered from it. He didn't want to, but he ultimately had to give up his house and move to an apartment where medical care was present all the time. There was very little argument from him even though everyone knew he'd have preferred to stay at home regardless of the consequences. A good soldier.
In the past few years, he was content with his nurse-approved portions of Canadian LTD and either a Brewers or Packers game. He had a stereo to listen to Bob Uecker call the games and headphones so he wouldn't miss anything.
It's hard to decide what to write about him. Some stuff won't translate because he was unlike any other person I've ever met. Describing him is pretty impossible. He did much more than he said. He worked every day of his life, until his body just wouldn't allow it anymore. He had the same hair cut since he was in the navy in WW2. He could build or repair anything. His favorite actor was Clint Eastwood. I think he'd take a ham sandwich over filet mignon, given the choice. He was a utility player, but spent a lot of time at short stop. I still have the toy chest he built for me when I was a little boy.
I have lots of memories. Lots. I think I got so much attention from him because by the time I came around, my grandpa was already pretty successful in his tavern and was expanding into the motel business. Lots of pressure was off to provide for the family by then. He could afford to have some fun. So, we shot a lot of pool. He showed me the beer cellar where they hid booze during the prohibition. He took me to a Brewers game (when Cecil Cooper, Robin Yount, and Rollie Fingers played) on a bus with other folks from Jackson. He made ice cream in the motel office while he smoked a pipe. He survived a boiler explosion in that same office. He had an infinite supply of quarters for soda, pinball, or video games.
Some of my grandpa's life was set up for him. He inherited the dance hall from his dad. He probably inherited some business savvy, too, since Rip's tavern was successful. And, if the gigantic piles of presents at Christmas every year were any kind of gauge, the motel business was successful, too. So he got a good start, but he capitalized on that and never quit working. He took what he was given and added his own ingenuity to set up a truly remarkable life.
I would be shocked if there was a person on the planet who had a bad thought about Rip. If he had any prejudices, you'd never have known it, but I suspect he didn't. Strangers were treated like family. That's how it's supposed to work.
The bottom line is, he lived an ideal life. It almost seems impossible. I mean, there's the blueprint for success. Solid ideas, strong work ethic, basic Christian principles – that's Rip, and that's how it should be done. That's the kind of guy that made the 50′s an era of success and prosperity. He won a war, then he made his own town a better place. And, most importantly, he set the foundation for a strong, happy family.
filed under: Uncategorized | comments (0) | read more...
© 2014 Borresens.com | Theme by DemusDesign and Theme Lab | Powered by WordPress